Movies with cinematographer John Lindley Bewitched
Warning: vicious personal-sounding attacks to follow. I want revenge on those who stole 100 minutes of my life. The motion picture version of Bewitched is a travesty of monumental proportions that belongs in the "What the hell were they thinkin... Catch and Release
Catch and Release is a confused, disjointed motion picture that tries to be many things and succeeds in being none. In less than two hours (although it feels considerably longer), writer/director Susannah Grant cobbles together nearly every imagina...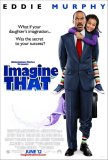 Imagine That
Watching Imagine That, I was beset by a feeling of intense depression. Is this what Eddie Murphy has become? Once moviedom's most high-octane comedian, a combustible mixture of raunchy, non-holds-barred verbal repartee and kinetic physical mayhem... Michael
Undeterred by the universally hostile reaction to her previous holiday picture, Mixed Nuts, director Nora Ephron (Sleepless in Seattle) is back at it again this year with Michael, the second angel-comes-to-Earth feature of the month. While this ma... Mr. Brooks
Mr. Brooks is a curious mix of the campy and the intelligent, of high concept and low psychology. In spite of these contradictions, or perhaps because of them, it works. This is a tense and engaging thriller, the kind of movie where the audience m... Pleasantville
Welcome to a world where Father knows best, where Mother cooks dinner, and where Sister and Brother's small missteps are treated with stern-but-kind lectures. It's a realm where everyone is nice to one another, where neighbors greet each other... Reservation Road
It would be interesting to get a psychologist's perspective about why revenge/vigilante (two sides of the same coin) motion pictures are suddenly so popular. From The Brave One to Death Sentence to Before the Devil Knows You're Dead to Reservation ... St. Vincent
Call it the Grumpy Old Man syndrome. In recent years, there has been a spate of movies about hoary curmudgeons bonding with kids. From Bad Santa to Bad Grandpa, it's all about oldsters learning life lessons from youngsters and vice versa. St. Vin... You've Got Mail
Tom Hanks can act. You need look no further than this year's Saving Private Ryan for proof of that. Meg Ryan can also act. For supporting evidence, check out Prelude to a Kiss and Courage Under Fire. However, in Nora Ephron's latest romantic co...