Movies with music written by Michael Kamen Brazil
Terry Gilliam's Brazil is one of those films whose enduring reputation is based at least in part on events surrounding its stormy distribution history. Taken at face value, Brazil is a stinging, Strangelovian satire of the power of the bureaucracy... Circle of Friends
Circle of Friends is the motion picture equivalent of a dime store romance novel. It has all the requisite elements -- it's a period piece (the bulk of the story takes place in the late 1950s); boasts women with heaving bosoms and a young, virile ... Die Hard
Die Hard represents the class of modern action pictures and the standard by which they must be judged. Few films falling into the "mindless entertainment" genre have as much going for them as this movie. Not only is it a thrill-a-minute ride, but... Die Hard 2
It's rare that the sequel to a good movie lives up to expectations. Such is the case with Die Hard 2, the somewhat-muddled but still entertaining return of Bruce Willis' John McClane. Fortunately, the original Die Hard was good enough that there'... Die Hard with a Vengeance
Perhaps the best way to describe the third segment in the popular Die Hard series is by comparing it to the previous two. That should give an adequate assessment of how far the adventures of John McClane (Bruce Willis) have fallen. The original D... Iron Giant, The
Over the past few years, as studios like Disney, Dreamworks, and Fox have worked to revive motion picture animation, Warner Brothers has remained mired in the lackluster morass that nearly killed animation during the '80s. The distributor's big ef... Last Action Hero
Danny (Austin O'Brien) is addicted to Jack Slater (Arnold Schwarzenegger) movies. He's seen the third one six times and now he's eagerly awaiting the released of Jack Slater IV. When his elderly friend Nick (Robert Prosky), the projectionist at a...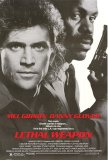 Lethal Weapon
It would be easy to lump Lethal Weapon into the vast scrapyard of mismatched buddy cop movies, but such a facile classification would do Richard Donner's 1987 thriller a disservice. This is one of the best of the subgenre, an action-packed movie t... Lethal Weapon 4
Since 1992, when Lethal Weapon 3 became an undisputed box office hit, there has been talk about a follow-up. With the possible exception of the still-unconfirmed Die Hard 4, Lethal Weapon 4 has been the subject of more (often inaccurate) rumors th...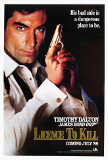 License to Kill
By 1989 and the release of Licence to Kill, James Bond had a lot of competition in the action genre. With so many higher-profile contenders (like Batman) in the arena, 007's popularity hit an all-time low. Audiences seemed less inclined to see th...