Movies starring Anthony Hopkins Fracture
Fracture is refreshingly different from the average mystery thriller in that it does not bombard the audience with "shocking" twists and "surprise" turns. This is a good thing, since those kinds of gimmicky plot elements more often than not derail... Hannibal
It's a safe bet that Ridley Scott's Hannibal is one of the most anticipated motion pictures of 2001. MGM, which owns the North American distribution rights, expects the film to have the biggest opening of any movie in the company's history (beatin...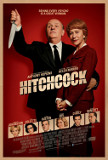 Hitchcock
Hitchcock could be construed as a misleading title for this motion picture. A better name might have been The Making of Psycho, although that might have led to confusion with a DVD supplemental feature. Director Sacha Gervasi's film looks at the li... How the Grinch Stole Christmas
For more than three decades, How the Grinch Stole Christmas has been a holiday season television staple. The 22-minute cartoon, based on the book by Dr. Seuss and narrated by Boris Karloff, has enchanted multiple generations of children (not to me... Legends of the Fall
Legends of the Fall is the sort of epic melodrama that only Hollywood can do this well. It's a spectacle more than a show, with soaring moments of triumph and tragedy. Words like "restraint" and "subtle" are meaningless in this context. The late... Mask of Zorro, The
Zorro, the swashbuckling hero of the undertrodden, was introduced to the world in 1919 when he debuted in the pages of Johnston McCulley's serialized novel, The Curse of Capistrano. Within a year, the masked man had appeared in a film, the silent ... Meet Joe Black
Meet Joe Black has the dubious distinction of being the longest film to date of 1998. It is also one of the most tedious and bombastic. At a hair under three hours, it's shorter than James Cameron's Titanic, yet, when it comes to pace, Joe Black ... Mission: Impossible II
For those who didn't get enough of James Bond late last year when The World Is Not Enough blazed its way into theaters, Mission: Impossible II offers a chance to once again get shaken and stirred. Oh, the film isn't an official entry into the dura... Nixon
It's always a tricky proposition to make a motion picture based on recent history -- and the more public the episode, the more difficult it is for the film maker to balance drama with accuracy. This is especially true when that film maker is Olive...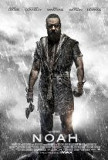 Noah
It has been a number of years since I have read the story of Noah in "Genesis" but I'm reasonably certain there are some discrepancies between the canonical account and the one related by director Darren Aronofsky in his new movie, Noah. For exampl...