Movies in the Action/Adventure genre Mask of Zorro, The
Zorro, the swashbuckling hero of the undertrodden, was introduced to the world in 1919 when he debuted in the pages of Johnston McCulley's serialized novel, The Curse of Capistrano. Within a year, the masked man had appeared in a film, the silent ... Mission: Impossible II
For those who didn't get enough of James Bond late last year when The World Is Not Enough blazed its way into theaters, Mission: Impossible II offers a chance to once again get shaken and stirred. Oh, the film isn't an official entry into the dura... Mission: Impossible III
Mission: Impossible III provides lots of action, but too little excitement. It generates lots of pyrotechnics, but too little heat. And it offers lots of Tom Cruise, but too little Ethan Hunt. In short, if you're yearning for a flashy, leave-you... Mr. and Mrs. Smith
The problem with Mr. and Mrs. Smith is that it's really two movies in one. The first is a sly comedy/thriller worthy of Hitchcock, and the other is a big, noisy summer action flick. The marriage of these two, like that of the title characters, is... Mummy Returns, The
The 1999 remake of the horror classic The Mummy surprised Universal Pictures with its box office success. The studio had expected it to be profitable, but not that profitable. However, long before the worldwide gross crept close to $400 million,... Mummy, The
The Mummy is pretty silly stuff. But that's okay when you consider that, beneath all the action/adventure and horror trappings, it's actually a comedy. Think of a big-budget, high profile effort in the vein of Sam Raimi's Army of Darkness wit...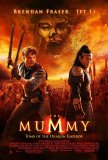 Mummy, The: Tomb of the Dragon Emperor
It has been a bad year for Indiana Jones and his knock-offs. In the wake of the lackluster Indiana Jones and the Kingdom of the Crystal Skull, we now have the second sequel to The Mummy, called Tomb of the Dragon Emperor. It is easily the worst o... National Treasure
I'm as willing as any movie-lover to accept a certain amount of ridiculousness in a movie if it serves the greater purpose of entertainment. And, when it comes to action movies, I like to think that my level of tolerance is pretty high. Hey, I en... Pathfinder
Pathfinder feels like one of those generic '80s action films where there's plenty of violence with no suspense, lots of stunt work but no excitement, and a cast of characters so poorly developed that it's easier to care about the background scenery... Phantom, The
It's probably unfair to characterize The Phantom as a Batman-wannabe, since Lee Falk's comic book creation predated the Caped Crusader. Nevertheless, as far as motion picture adaptations are concerned, Michael Keaton first stepped into his suit se...