The Top 10 of the 1990s
As the 1990s draw to a close, every film critic experiences a sudden, uncontrollable, and inexplicable compulsion to take a look back at the decade gone by. Some will write long and meaningful essays offering an historical perspective on the '90s. Others will attempt the daunting task of ranking every movie released between January 1, 1990 and December 31, 1999. My agenda is somewhat less ambitious.
I would be remiss if I didn't briefly discuss a few trends I have noticed. The film industry is a different beast today than it was 10 years ago. One wonders where it will be at the end of 2009. (This is not intended to be a comprehensive, or even semi-comprehensive list.)
Sight & Sound: The 1990s have seen quantum leaps in special effects technology - computer generated visual images and digital audio that have elevated the movie-going experience to a new level. 1993's Jurassic Park was the first film to show off these capabilities in their full glory (even though cgi has been around since the '80s). By the time Titanic and The Phantom Menace were released, directors were still pushing the envelope, with James Cameron and George Lucas on the front lines.
Indie World: The 1990s saw the evolution the independent film from a small alternative to big-budget fare to a major player in the box office chase. Distributors like Miramax and October Films were gobbled up by major studios. Oscar nominations began cascading in their direction, culminating in Best Picture wins for Miramax's The English Patient (in 1997) and Shakespeare in Love (in 1999). In fact, indie pictures have become so popular and have moved so far into the mainstream that the label perhaps no longer applies - they are as mainstream as anything else on the market. Even the "next generation indie films" - those made on a shoestring budget with unknown actors - are capturing surprising audiences (witness The Blair Witch Project's unprecedented success). The Sundance Film Festival, where many independent films debut, has changed from a small, midwinter place to watch a few undiscovered gems to a trade show. The negative to this proliferation of American independent features has been a decline in foreign language films making it into the U.S. market. There are, after all, only so many screens, and this increase in domestic releases has squeezed out foreign contenders. Outside of New York (and, to a lesser degree, Los Angeles), it is becoming increasingly rare to see anything but the highest profile foreign language films screen for even a week.
Disney's Resurgence: By the end of the '80s, many analysts had given up Disney for dead. The '90s have seen an astonishing turnaround for the Magic Kingdom, with their name once again becoming synonymous with "family entertainment." In addition to Walt Disney Pictures, Hollywood Pictures, and Touchstone Pictures, the studio now also owns Miramax Films and ABC-TV. Their animation division has undergone a complete turnaround (actually begun in 1989 with the release of The Little Mermaid). 1992's Beauty and the Beast was nominated for a Best Picture Oscar. 1994's The Lion King became the highest grossing animated feature of all time. And 1995's Toy Story explored the power of completely computer-generated animation. Regardless of what anyone thinks of Disney's product, their about-face has been one of the most amazing success stories of the decade.

Oscar Placement: This is a trend that has been growing slowly but steadily over the past few years. To one degree or another, it has always been true, but the '90s have seen the most extreme example of this behavior: studios saving their best films for release in October, November, and December - the three months now referred to as the "Oscar Window." In today's climate, especially following the failure of Saving Private Ryan (released in July) to win Best Picture, it's unlikely that any potential contender will be released before October 1. In 1992, The Silence of the Lambs (released in February 1991) won Best Picture. Today, the film would not have been released that early, and, if it had been, its chances of winning would be greatly diminished. It has always been said that the members of the Academy have short memories; the situation has gotten worse in recent years, with some sort of senility setting in. Of course, the consequence of this shift in releases is that the end of the year is a wonderful time for those who love movies. Unfortunately, this doesn't bode well for the product that's available from January through September.

The Summer Blockbuster: The trend of releasing big-budget, low-intelligence movies during the summer is not something new, but it was perfected during the '90s. Now, from May through August, every week sees the release of a new, gargantuan motion picture with big stars, lots of action, numerous special effects sequence, and (for the most part), a script that could have been written by a 10-year old boy. Every summer has its big winners and losers - titles like True Lies, Independence Day, Godzilla, and The Phantom Menace litter the decade's summer landscape. There are exceptions. Forrest Gump and The Lion King made big money by offering an alternative to testosterone. And, although the highest-grossing film of all time, Titanic, was released during the Thanksgiving-Christmas window, it was originally pencilled onto the schedule for a July 4 opening until production delays forced it to be pushed back five months.

Megaplexes: During the '80s, a big story was the replacement of single-screen theaters with multiplexes - complexes that boasted six or eight screens. During the '90s, the arrival of megaplexes made multiplexes obsolete. Newer theaters now boast 20, 24, or 30 screens, all complete with the latest sound systems and stadium seating. Even art houses have gone the megaplex route. The Ritz 16 theater in Voorhees, New Jersey, one of the most up-to-date venues for less commercial films in the United States, recently completed construction to up its total number of screens from 12 to 16. And, as with all new theaters, it offers a form of stadium seating and full digital surround sound in each of its auditoriums. Now, any complex offering fewer than about 10 titles and/or "antiquated" seating, may find itself out of business. Movie palaces, in danger during the '80s, are almost extinct with the approach of the new millennium, and drive-ins are going the way of dodos and dinosaurs.

Shakespeare Redux: It officially began in 1989, with the release of Kenneth Branagh's Henry V. Suddenly, Shakespeare is big again, and the '90s have seen about a dozen Shakespeare-related films, ranging from Branagh's uncut Hamlet to Baz Luhrman's controversial Romeo + Juliet. This popularity for movies based on classic literature has spread beyond Shakespeare. Nearly every Jane Austen novel received some sort of screen treatment, as did the works of Charles Dickens, Thomas Hardy, Edith Wharton, Emily Bronte, Henry James, and others. So, in an era when so many original scripts are showing a distinct lack of intelligence, at least there are still the adaptations to look forward to.
Was there ever any doubt that Schindler's List would wind up at the top of this list? (Judging from the e-mail "guesses" I have gotten, no.) When I first reviewed this film in 1993, I was using a 0-10 scale, and Schindler's List became the first and only movie I ever honored with a "10." That does not imply that the film is perfect, but, all things considered, it is surely one of the best motion pictures ever committed to film. Director Steven Speilberg can work for another 40 years, and he may never equal what he has accomplished with this movie. Despite the grisly subject matter, this film is essentially about uncovering a kernel of hope and dignity in the midst of a monstrous tragedy. The story of Oskar Schindler's sacrifices for the Jews sets this apart from other Holocaust dramas. The acting is flawless, and the black-and-white cinematography is stunning. Uncompromising in its portrayal of good, evil, and all the shades in between, Schindler's List offers a clear view of human nature laid bare: hatred, greed, lust, envy, anger, and, most important of all, empathy and love. Because this film touches us so deeply, the catharsis has a power that few -- if any -- other moments in film history can match. And that's what establishes this as a transcendent motion picture experience.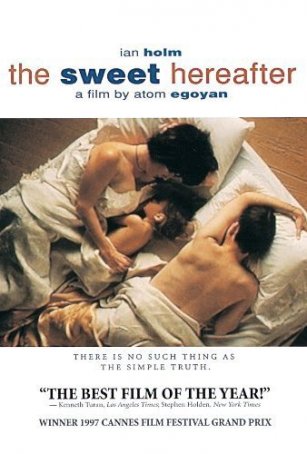 The Sweet Hereafter, director Atom Egoyan's 1997 masterpiece, is one of those extremely rare movies that stays with a viewer not just for months, but for years. It's hard to overstate the devastating impact of this poignant film. If Egoyan makes a misstep anywhere in the nearly two-hour production, I can't find it. An emotionally-wrenching and intellectually-demanding exploration of the effects of grief on a small Canadian community, The Sweet Hereafter is haunting, eloquent, and proves just how impressive a motion picture can be. During the course of this 110-minute, emotionally-turbulent experience, Egoyan doesn't ask easy questions or propose simplistic answers. This is film making at its most powerful: drama capable of shaking the soul, yet free of even the slightest hint of manipulation, sentimentality, or mawkishness. Ultimately, perhaps the most amazing thing about The Sweet Hereafter is not the style, the acting, or the cinematography (all of which are exceptional), but the way the film successfully juggles so many themes. While the film is not as brutal as Tim Roth's The War Zone, its overall impact is as great, if not greater.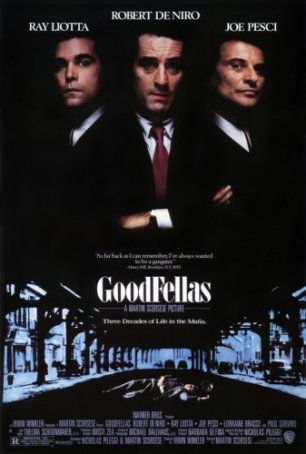 It wasn't easy deciding the order of the Top 3 films. Any of them could have been #1, and my final choice was only made after spending a rainy day watching all three back-to-back-to-back. Goodfellas ended up with the Bronze Medal, but that in no way diminishes its status as perhaps the greatest and most viscreal motion picture made by one of the best living American directors: Martin Scorsese. With this movie, Scorsese has scored a trifecta, having one of the Top 10 films of the 1970s (Taxi Driver), the 1980s (Raging Bull), and the 1990s. Goodfellas is as compelling and absorbing as any crime drama I have ever seen. The script shows all the facets of these characters; they are all fully developed individuals capable of great good and great evil. The moral ambiguity of their lifestyle is treated with a shrug. The story, which spans a quarter of a century, has an epic feel despite its intimate perspective. And, as is often true of Scorsese's work, Goodfellas is a masterpiece of visual composition. Employing the services of German-born cinematographer Michael Ballhaus, the director eschews a static camera, always keeping the canvas of his film fluid. There are long pans and innovative flourishes, all designed to enhance the mood and involve the viewer in the action. If there's an area of weakness in this film, I can't find it. Indeed, few (be they critics or average movie-goers) will object to the statement that Goodfellas stands alongside The Godfather as one of the two greatest mob stories ever presented on film.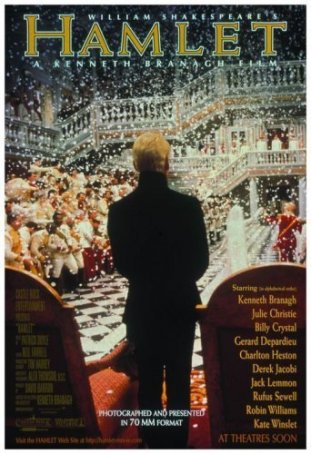 Kenneth Branagh's full-length, unexpurgated version of Hamlet is not only the grandest and most glorious spectacle of the 1990s, but it is the second-longest film to reach U.S. theaters during the decade (the longest: Gettysburg). As with all great Shakespeare adaptations, this one does not demand familiarity with the Bard to be appreciated, but such knowledge can only add to the richness of the experience. Hamlet is one of the most frequently filmed of Shakespeare's plays, but Branagh's version stands as not only the best filmed adaptation of this title that I have ever seen, but the best cinematic expression I have come across of any of Shakespeare's works. One of the things that Branagh brings to this adaptation is an amazing visual sense. From start to finish, this is a stunningly beautiful film, filled with vibrant colors, startling camera angles, and costumes and production values that are among the best of the decade. Yet, even amidst the spectacle of the visual elements, the narrative is never upstaged. A key to great cinema is to use time and place to augment the story, and that's what Branagh accomplishes here. Branagh was born to make this film. Hisprevious forays into Shakespeare (Henry V, Much Ado About Nothing) have been excellent, but nothing prepared me for the power and impact of this motion picture.Few movies during the '90s have engaged my intellect, senses, and emotions in quite the same way. This is four hours very well spent.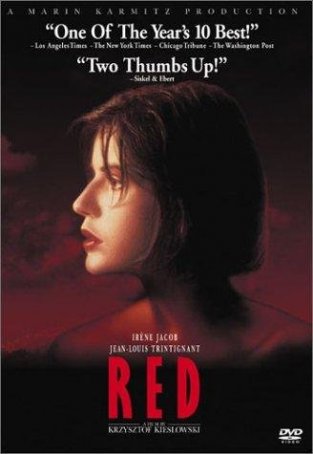 Some might consider it to be cheating to group these three movies together, but this is a case in which the sum truly is greater than the individual parts. If Three Colors was broken apart and the components were presented as three stand-alone entities, only Red would have stood a fighting chance to make the end-of-the-'90s Top 20. On the other hand, viewed as a whole, the trilogy definitely deserves to be here. Even White, the "weak sister" of the three, has greater depth and resonance when seen as the middle chapter rather than as a stand-alone film. Kieslowski constructed these three movies to illustrate the principles of liberty, equality, and brotherhood. While they succeed at that, they also do much more. These are powerful, emotionally rich, and impeccably photographed films with unforgettable characters. One treat that viewers watching the films one-by-one might not notice is the difference in tone. Blue is a deeply-felt drama about grief. White is a dark comedy about reaching equality in a marriage. And Red is a stylistic meditation on fate. Taken apart, they represent three fine motion pictures. Together, they are a masterpiece.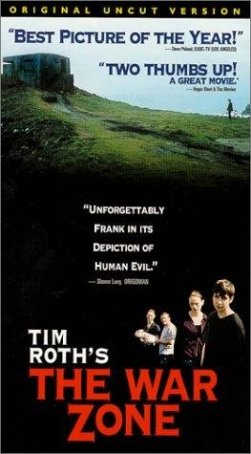 The War Zone is a devastating motion picture; it's the kind of movie that stuns an audience so absolutely that they remain paralyzed in their seats through the end credits. It does not deal in euphemisms nor does it hide the physical and emotional brutality of the act from viewers. What director Tim Roth has accomplished is nothing short of brilliant, but it is also incredibly daring, because the film has no commercial prospects. No matter how many critics trumpet The War Zone's merits, viewers will not flock to see it; the subject matter is too upsetting and daunting. Yet for sheer force of emotional power, I have not seen the movie's like in years. Three months after seeing this movie, nearly every scene remains crystal clear in my mind. That happens so infrequently that when a film achieves such a feat, it deserves to be singled out and trumpeted. The movie also features two astonishing performances (by actor Ray Winstone and actress Lara Belmont) and a host of strong support. Another amazing thing about The War Zone is that it is by a first-time filmmaker. Roth has learned from the best, however, and, in bringing this movie to the screen, he has perhaps trumped all of his mentors.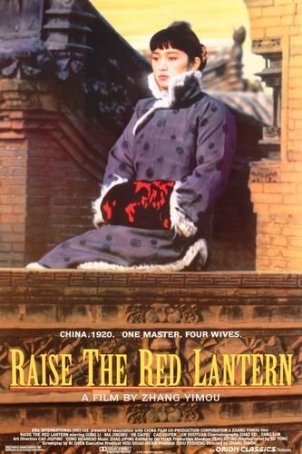 I don't think I've ever seen a movie quite like Raise the Red Lantern -- not a surprising admission, considering how infrequently productions possessing this degree of emotional impact and narrative quality come along. The film is widely recognized as a defining example of modern Chinese cinema. It is also one of the most sublimely beautiful and openly disturbing films of the 1990s. The story, which transpires within the confines of the estate of a rich man in feudal China, tells of the plotting and maneuvering of a group of wives as they seek to curry their husband's favor. The Chinese government didn't approve of Raise the Red Lantern, and it doesn't take much imagination to see this film as a parable for the corruption of modern society in China. Thematically, Raise the Red Lantern is an epic, but, in terms of physical scope, it is an intimate motion picture. Lead actress Gong Li and director Zhang Yimou, who collaborated numerous times on screen while an off-screen relationship simmered, are at the apex of their talents. Neither before nor after have they equalled the spell they have woven here (although To Live comes close). Raise the Red Lantern is one of those all-too-rare motion pictures capable of enthralling an audience while they're watching it, then haunting them for days thereafter.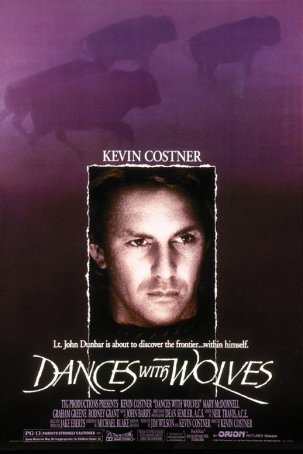 Dances With Wolves is Kevin Costner's tribute to what was once the most popular genre in the world -- The Western. And what a tribute it is! Winner of the 1991 Best Picture Oscar, this is a gem of a motion picture -- a movie possessing incredible emotional depth, stunning visuals, and one of the best scores of the 1990s. An epic in every sense of the word, Dances With Wolves is the tale of Lt. John Dunbar, a Union officer who finds himself alone on the frontier. After making contact with the Sioux, he becomes enthralled by their culture and falls in love with one of their women. Never before in a major motion picture (and certainly not in a Western) have Native Americans been portrayed with such sensitivity and nobility. But there is far more to this film than just a "revisionist" approach -- Dances With Wolves is grand, triumphant filmmaking, full of moments to make spirits soar and the heart burst. After the failure of The Postman, Costner may never again direct, but, even if he doesn't, he can be proud of this singular achievement. For three hours, Dances with Wolves transports us to another world, and that's the mark of a great motion picture.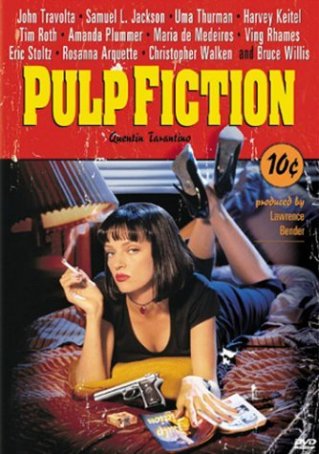 Pulp Fiction is likely the closest the motion picture industry will ever come to bottled adrenaline. Kinetic, colorful, and exhilerating, this inventive mix of action/adventure, slick dialogue, and black comedy became a lightning rod for both criticism and adulation during its highly successful U.S. theatrical run. The most frequent attack on the film claimed that director Quentin Tarantino had not done anything inventive -- he was merely recycling the best parts of other movies. And, while there's an element of truth to that charge, the fact is that the real brilliance of Pulp Fiction lies in the way that all the disparate elements have been mashed together. The movie is unique -- not because everything it does is new, but because there's a freshness to the way in which each scene is put on screen. Now, four years later, the Pulp Fiction phenomenon has dimmed, leaving in its wake a tremendous source of entertainment whose luster has not been diminished by the early 1995 backlash. Tarantino may never again approach what he achieved with this motion picture, yet he will still be regarded as one of the most important and influential directors of the 1990s. And Pulp Fiction will forever stand as one of the decade's bloodiest crown jewels.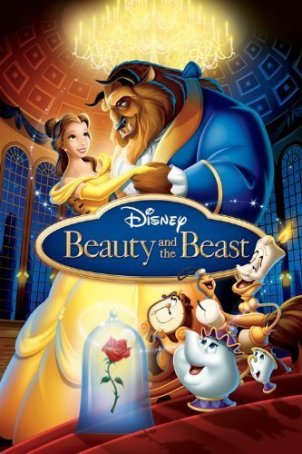 Not only do I think Beauty and the Beast is the best animated motion picture of the 1990s, but I believe it to be the most impressive movie of its kind ever to be released (that encompasses all contenders, including the great Disney Golden Age classics like Snow White and Japanese anime). To date, it is the only animated film to be nominated for a Best Picture Academy Award (it lost to the undeserving Silence of the Lambs). The true strength of the movie isn't the sterling animation or the lively, Broadway-style musical numbers -- although both of elements greatly enhance the film's level of quality. Instead, it's the depth of character development evident not only in the leads (Belle and the Beast), but in the supporting cast as well. The men and women inhabiting this world are as real as those in the best live-action motion pictures. We form a bond with them and develop an investment in their futures. The screenplay does not talk down to adults, but speaks to them as loudly and lucidly as it does to children. There is no other animated film that I can watch as frequently and enjoy as fully every time.