James Berardinelli's All-Time Top 100
It has now been close to 13 years since I embarked upon what I called at the time my greatest challenge as a film reviewer: whittling down the nearly 6000 films I had seen (at the time) to the top 2%. I have no idea if I got it "right" or not, but the Top 100 that resulted from that effort remains one of my most notable personal accomplishments. Lists in general are meant to spur discussion and this one is no different. My sincerest hope, however, is that it will provide fodder for those in search of good movies to watch at home. Some are available on streaming services. I believe all (or at least nearly all) are available on Blu-Ray or "old-fashioned" DVD.
I started compiling the list in late 2001 (shortly after I returned from the 2001 Toronto Film Festival, the "9/11" festival) and had the order mostly completed by Christmas Eve. I began posting it, one title per week, in early January and completed it in late 2003. Here are some excerpts from the original introduction:
People love lists… Like everyone else, I have a soft spot for [them]. Perhaps because I'm an engineer by trade, I like organizing things, and lists are effective ways of doing that. Still, I don't pay much attention to any of the so-called "All Time" film rosters - whenever a prominent one pops up, curiosity prods me to check it out, but it doesn't mean much to me. I don't get upset if my favorite films aren't there - in fact, in many cases, I expect them to be absent. There's nothing more individual and personal than a Top 100 list. Attempts to quantify the Best 100 movies of all time are doomed to failure, since the words "quantify" and "art" are incompatible bedfellows.
So why am I making my Top 100 list available for the world to see? One reason is that, amidst all of the e-mails I get, this is one of the most frequent requests… Another reason is to highlight some underrated films by their inclusion (and, conversely, to do the same with some overrated films by their omission)…
Please note that the title of the list is my "Top 100 Films of All-Time" not the "Best 100 Films of All-Time". My ego is not large enough to allow me to claim to be able to compile the latter list. To date, I estimate I have seen about 6000 movies. That's a lot - more than many people see in a lifetime - but it also means that there are thousands of films I have not seen, and, with so many holes in my viewing roster, I can't even attempt to compile a comprehensive list…
Also, the list is a living thing. As I see more movies, it will evolve and change. When a great new film comes out, it may enter the list. Likewise, I may see and fall in love with an older movie. Thus, to start with, there are no runners-up. But, as other movies enter the list, those near the bottom will slip into runners-up status…
Some might assume that the list will be comprised solely of four star films. It is not. There are many four-star films to be found, but also quite a few with three-and-one-half stars. There are also a number of four-star films that didn't make the list. There's no definitive reason for this, except that the passage of time has, in some cases, enhanced or decreased my opinion of a particular movie…
So I have now reached a point when the "living list" needs to be revisited. Since I last revised the Top 100 a few years ago (adding Apted's Up Series and The Dark Knight), there have been some very good movies but, until last year, nothing that challenged me to change the list. 2013, however, brought two great films to my attention (one of which was released domestically in 2014) that warrant inclusion. They are: Before Midnight and Like Father, Like Son. The former is the third installment in Richard Linklater's Before series (it's currently a trilogy but that will likely change in another 8 years). It enters the list at #68, only a few slots behindBefore Sunrise. (Before Sunset didn't make the Top 100, although it would have made a hypothetical Top 200.) The latter is a Japanese film and features neither Dudley Moore nor Kirk Cameron. A masterful and emotionally potent exploration of identity and fatherhood from acclaimed director Hirokazu Kore-eda, this one is truly worth searching out. (As I write this, it is available for streaming.) It enters at #83.
The addition of two titles means that Vertigo and Dead Again slip into the growing pond of "Honorable Mentions." Technically, that means that the Top 100 is now the Top 109.
As of September 2014, here's the list as it stands, with links to the reviews: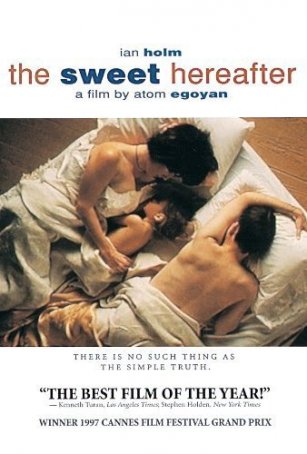 In the 1980s and early 1990s, Atom Egoyan was - like so many passionate, young directors – a promising filmmaker. That promise, which percolated just beneath the surface through a series of intriguing, flawed movies, was finally realized with the release of 1994's Exotica (which just missed the bottom end of this list). Egoyan then proceeded to top himself with 1997's The Sweet Hereafter, a completely non-manipulative meditation on grief and fate. The subject matter of the film is difficult (children dying in a bus accident), and, under the stewardship of another director, it might have made for a 5-tissue sob-fest. Egoyan, however, strikes the ideal balance between detachment and melodrama. The screenplay is nearly perfect, and the director never makes a wrong choice. This isn't just good filmmaking. It is powerful, compelling, unforgettable filmmaking. Regardless of how The Sweet Hereafter impacts you – whether you cry a river, feel like you have been punched in the stomach, or watch in wonder at the accomplishment – you will never forget this motion picture.
Amadeus is one of those films whose greatness eluded me until I had been a critic for some time. I first saw the movie in the late '80s, and, while I was impressed, it wasn't something I had a burning desire to see again (despite the fact that I was something of a classical music buff during those years). Then, in the mid-'90s, a deluxe special edition laserdisc version of Amadeus was released. At $100, it was pricey, but I bought it because I thought that, as a self-respecting film critic, I should own a copy. Watching it for a second time on laserdisc is when I became hooked on the film. So it was with delight that I greeted a chance to see it in a theater during 2002 when the director's cut received a limited release, and then to buy it on DVD. Occasionally, I am asked whether I prefer the original cut or the extended version. It's a surprisingly difficult question to answer, since some of the added material in the longer version adds depth to the story, but there is also some filler. I think the 1984 movie is a little better paced. Both come with my highest recommendation, but, if I was forced to make a choice, I would cast my vote in favor of the original. Mozart was never my favorite classical composer, either before or after seeing Amadeus, but I admit to having a much greater respect for his music in the wake of seeing this film. Years later, I recall hoping that Immortal Beloved would do for Beethoven what Amadeus did for Mozart, but that was not the case. Immortal Beloved was an inferior movie; nothing before or since has been able to equal Milos Forman's speculative biography.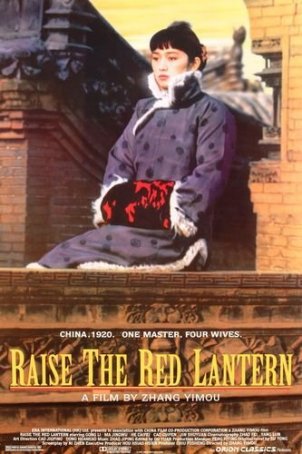 Raise the Red Lantern is the film that changed my mind about Chinese cinema. When the movie received limited United States distribution in 1992, my interest level was so low that I initially skipped it, even though it was playing at a relatively convenient location. Having watched a few badly made Chinese films on video several years earlier, I was convinced that it wouldn't be worth my while. Then I started reading the reviews, which were uniformly positive (some bordering on rapturous). So, on the day before it was due to end its run at a nearby art-house, I took an afternoon off from work to see it. "Awed" is almost too mild a description for the way I felt. In the wake of Raise the Red Lantern, I began actively seeking out Chinese movies, especially those made by Zhang Yimou and his contemporary, Chen Kiage. At film festivals, I made it a point to sample a few offerings from Asia. And, when there was a special theatrical screening of Raise the Red Lantern at a local movie house, I took the opportunity not only to see the film for a second time on the big screen, but to write a review. I knew from the beginning that Raise the Red Lantern would be somewhere on my Top 100. It wasn't until I began ranking titles that I realized how high. At this time, the film is not available on DVD in North America, which is a shame. I have a laserdisc copy, but I would dearly like to see a DVD special edition of this film. (The recent release of To Live gives me hope.) This movie, perhaps more than any other to ever emerge from China, deserves the best video treatment available. For those who have the patience to sit through a production that takes its time to develop characters and situations (essentially, any movie-lover without ADD), this is a must-see and, when it becomes available, must-own.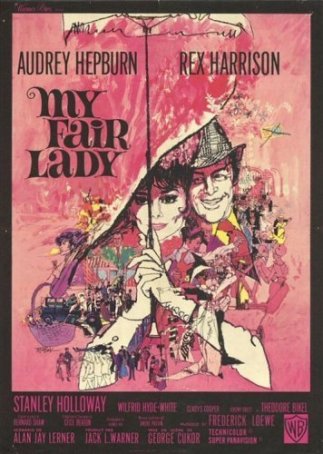 Since I first saw it more than a decade ago, My Fair Lady has been my favorite musical. That probably places me in a distinct minority, since many critics consider it to be a good – but not great – motion picture. (The critical weight for Best All-Time Musical comes down on the side of Singin' in the Rain, which is also a distinguished member of my Top 100, although it does not occupy as lofty a position.) There's nothing about this movie that I don't like. The songs are wonderful, the costumes are imaginative, and the two leads are without peer. Watching My Fair Lady for the first time all those years ago, I finally saw the Audrey Hepburn star quality that had eluded me while viewing some of her other films (including the overrated Breakfast at Tiffany's). It helps that I have always been a sucker for Pygmalion, regardless of the version. My Fair Lady is a timeless romance, yet one that does not feature sex, kissing, or much in the way of physical contact. If ever there was a case of movie characters falling in love with their eyes, their mannerisms, and their verbal jousting, this is it. The pace is far less frantic than that of this decade's "musical revivals," but, for true lovers of the genre, the tone and length couldn't be more perfect. Like a crackling fire on cold winter's night, My Fair Lady brings light, warmth, and a touch of romance. What more could anyone ask of one of Hollywood's greatest all-time musicals?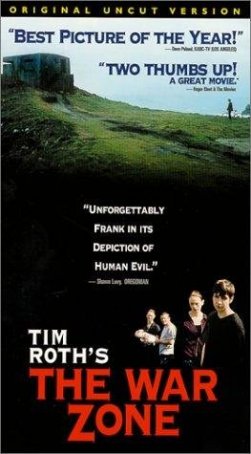 One of the questions I get asked a lot about this film is whether I "like" it. To like something implies enjoyment, and that's not what The War Zone is about. So, in a traditional sense, I don't like The War Zone, but I think it's one of the most deeply shocking and affecting pieces of cinema I have ever witnessed. I wouldn't recommend the film to someone who is easily offended (especially by graphic depictions of sex and incest) or to someone who views the cinema exclusively as a means of escape and entertainment. But for those who appreciate being challenged, few movies made in the last decade can match this one. Incest is not a new topic for movies, but The War Zone is no soft-peddled Lifetime TV drama. Its presentation of the issues is gut-wrenching to the point of being almost savage. There is meaning and passion in this movie, and, if some of the scenes leave the viewer confused and uncertain, that's the point. The movie has many layers. You can delve as deeply into the murk as you want. Simple explanations don't work here. Certainly, Tom is repulsed by Jessie's contact with their father. But does he view himself as her protector, or is he jealous? And what about the scene where she almost "helps" him lose his virginity? Layers... All of the performances are incredible, and it's tough to say enough about the courage and raw power of Lara Belmont's work. One scene in particular – where she is reduced to a series of wrenching sobs – is simply heartbreaking. The War Zone also features a young Colin Farrell in a supporting role (he was an unknown at the time, and wasn't mentioned in my original review). If you're in the mood for something dark and serious, for something that takes the intelligence and maturity of its audience for granted, and for something that doesn't pretty up an ugly subject, The War Zone is damn near the best movie you can find in a video store. For those who can take it, this film is not to be missed.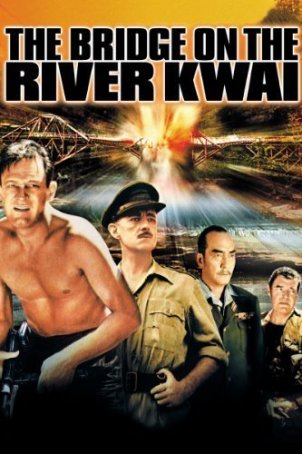 For some reason, when I was a child, I was under the bizarre and mistaken impression that "Bridge Over Troubled Waters" was the theme song for The Bridge on the River Kwai. By the time I was old enough to have enough interest to watch the film, I was no longer expecting to hear Simon and Garfunkel. But I was also ill-prepared for the sheer power of this film. And, as forceful as The Bridge on the River Kwai was in a commercial-interrupted copy on a small TV, its impact was greatly magnified when I had an opportunity to watch a copy of the restored print in a theater. My opinion of David Lean has waxed as my knowledge and appreciation of film has increased. And, while I am not a huge fan of all the director's works (I find Dr. Zhivago to be overlong and self-indugent), I believe that both The Bridge on the River Kwai and Lawrence of Arabia are among the best movies ever made in their respective categories. All students of film will see this movie because it is a classic, and no one can properly call themselves a cinematic scholar without having experienced The Bridge on the River Kwai at least once. But I would encourage non-cineastes to seek out the movie as well. It is invigorating in a way that many older, revered works are not, and stands the test of time as a sweeping adventure. Many movie-lovers will have this title in their personal Top 100.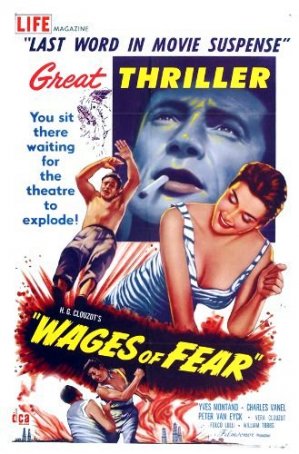 The first time I saw Wages of Fear, I knew nothing about it except that it was the product of French filmmaker Henri-Georges Clouzot, who also made Diabolique. After careful consideration of how much I enjoyed Diabolique, I decided to give this movie a try. I ended up watching it three times consecutively over the course of a rainy weekend, then writing a lengthy review. I was so hooked on the movie that I sought out a copy of the English-language remake, Sorcerer (a good movie, but not on par with the original). There are many things in this movie that impressed me, but the one aspect that stands out in my memory is how taut and suspenseful the entire production is. After a series of establishing sequences, Clouzot starts building the tension, and there's no relief until the end credits. This is also a movie where the subtitles don't distract. There is dialogue, but, for the majority of the movie, that's one of the least important elements. Acting and camerawork convey nearly everything that's necessary. For those who enjoy thrillers and have not seen many foreign films from the '50s, Wages of Fear represents a superior find.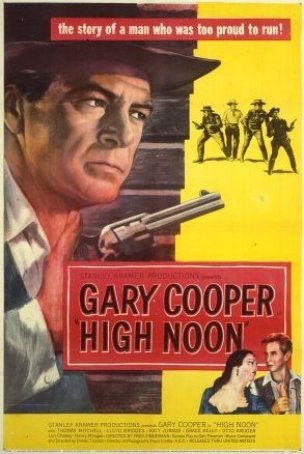 I consider High Noon to be the best Western ever made. Better than The Good, the Bad and the Ugly. Better than The Magnificent Seven. Better than The Searchers. Better than The Wild Bunch. And better than Dances with Wolves. As good as all those movies are, none trumps Fred Zinnemann's best directorial effort. In fact, High Noon is the movie that got me to appreciate Westerns, rather than view them as relics of a bygone day. One of the reasons this movie is so good is because it's deeper and more complex than the average Western. Heroism isn't all it's cracked up to be, and... gasp... the protagonist is actually afraid of the bad guy. He wants to run. His wife wants him to run. But duty won't let him. Another unique aspect of High Noon is that it transpires in real time. This heightens the suspense as the clock ticks away the seconds. Then there's Grace Kelly, my favorite actress from the '50s. Blond, cool, and regal, she was one of the queens of the Silver Screen in an era when that title meant something. In terms of acting, this isn't her high-water mark, but she's a joy to watch, even when her performance isn't much better than that of the nearest hitching post. You won't find any Westerns in a higher slot on the Top 100. This one's as good as they get.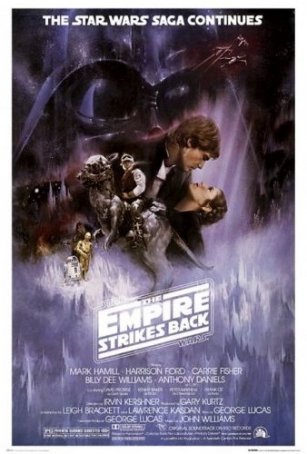 There are many times when the sequel to a beloved movie fails to live up to the hype. Such was not the case with 1980's The Empire Strikes Back, which didn't just equal the excitement and derring-do of its predecessor, Star Wars, but exceeded it. Regarded by some as the best sequel of all-time, it's not hard to understand how The Empire Strikes Back earned that distinction. The film's shocking revelation – that Darth Vader is Luke's father – became the biggest topic of conversation in my circle for most of the summer. (I knew the film's secret before seeing it, because the book was available three days before the movie opened. Less than 48 hours after getting my hands on the paperback novel, I had completed it. This foreknowledge did nothing to dim my enjoyment of or enthusiasm about the movie.) And, at the time, it seemed intolerable that we would have to wait three long years for the conclusion of the trilogy. (Return of the Jedi - or Revenge of the Jedi, as it was originally known - never looked better than before I saw it.) For a year or two, The Empire Strikes Back was my favorite movie (taking that coveted spot from Star Wars). Thousands of films later, it's still in the Top 30 – a testament to the enduring power of this singular science fiction experience. Not only is The Empire Strikes Back the best of the Star Wars pictures to-date, but it's the most accomplished science fiction movie to have come out since the genre was re-popularized by George Lucas' 1977 cinematic gem. The darkest and bleakest of the series has proven to be its most enduring.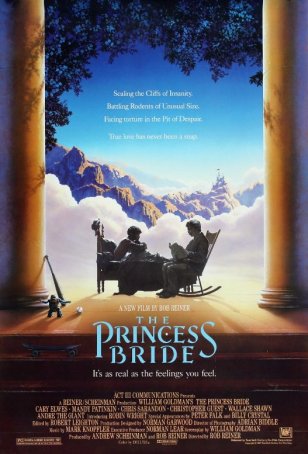 There are some movies you come to appreciate only after watching them many times. There are other movies that are enjoyable on the first showing, then rapidly lose their luster. Then there are those rare jewels like The Princess Bride, which entertain no matter how many times you see them. I loved this picture when I first saw it on a movie screen in 1987, and have never lost my affection for it. Over the years, I have owned four copies of it – on VHS (when that was my video mode of choice), on laserdisc, and twice on DVD (the "standard" edition and the "special" edition). The Princess Bride was not a huge box office hit when it was released during the early Fall of 1987, making back about twice its $16 million budget. It was mostly snubbed by the Oscars, earning a nomination only in the "Best Song" category. Over the years, however, it has developed a large, devout following on video. If a sequel was made (and I sincerely hope none is forthcoming, although I wouldn't mind seeing Inigo's adventures as the next Dread Pirate Roberts), it would probably out-earn the original by at least fivefold. I place The Princess Bride in much the same category as Time Bandits (another film in my Top 100) and Shrek (a film that just missed the Top 100) – fractured fairy tales that appeal to viewers of all ages and work on different levels as comedy/satires, fantasies, and action/adventure movies. The Princess Bride is one of those films guaranteed to bring a smile to the face and a quote to the lips.